An HVAC Cleaning Lowers Bills and Extends the Life of your Unit
Is it time to get an HVAC cleaning and check-up?
A lot of people flip on their air conditioning on the first 80-degree day, even though it's been sitting dormant for almost six months. I always recommend having an HVAC expert do a cleaning and check-up before turning it on. In fact, an HVAC clean and check should be done twice annually, once in the spring and once in the fall. Doing so will save you money on your energy bill and it may just get you another decade out of your system.
Don't wait until the first hot day of the spring or summer to turn on your air conditioner. As home inspectors, we don't test the air conditioning if the outdoor temperature is below 60 degrees. It can damage many of the older units. We need a few warmer days in a row. When people ask why their air conditioner is blowing warm air, we can generally narrow it down to a few factors. The unit may need cleaning. It may be damaged, which decreases its efficiency. Or the Freon may have leaked out.
What do we look for when inspecting an HVAC system?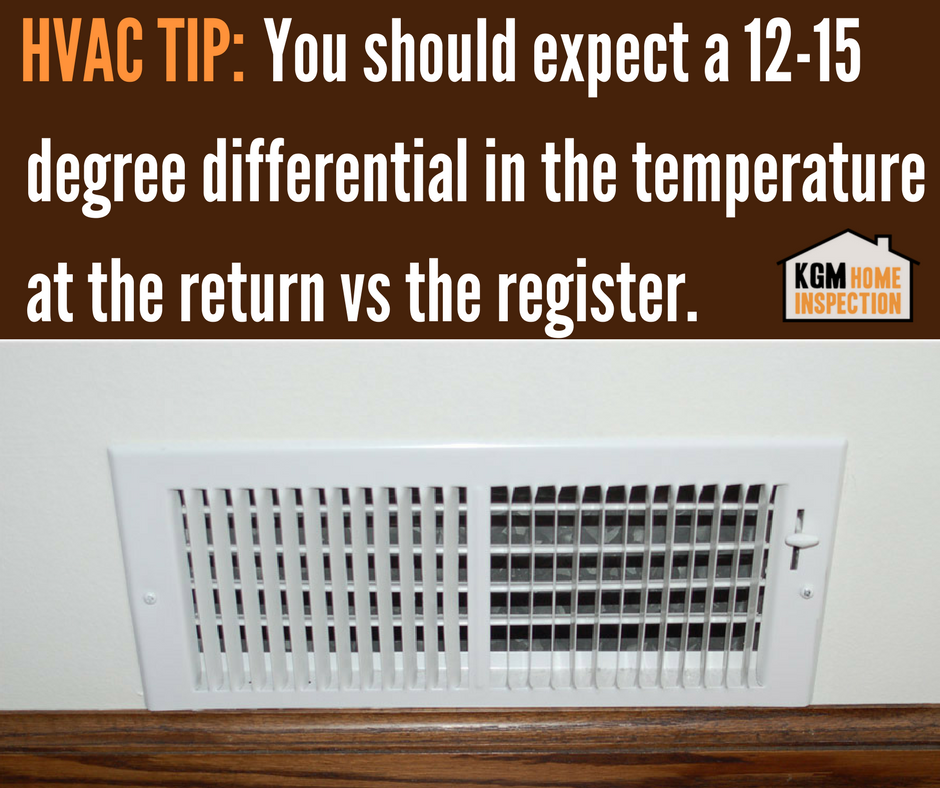 During a home inspection, we visually assess the HVAC system, turn on the heat and air conditioning (weather permitting) and run them for a bit. Outside, we want to see if the unit or its hoses are frosting up. Inside the house, we're looking for a 12-15 degree differential between the reading at the return and at the register.
For furnaces, the air coming out of the register must be warmer than the furnace temperature setting to compensate for the heat dissipation throughout the room.
Normally, you can tell right away whether a furnace is working or not. But air conditioning is a bit different. During spring months, when the inside temperature is somewhat equivalent to the outside temperature, sometimes it's difficult to test. A dirty furnace filter can decrease the temperature of an AC unit by five to 10 degrees.
Why should you get an HVAC cleaning and check-up regularly?
Getting annual HVAC cleanings and check-ups is like getting an oil change for your car every 3,000-5,000 miles. This kind of maintenance helps keep costs down during peak heating and cooling months, while also extending the life of your HVAC system.
If your air conditioning unit isn't properly cooling the house, it's constantly running to reach your desired temperature. In that scenario, you have an AC unit that's overworked and an electric bill that's gone through the roof. Something as simple as making sure you have a clean, furnace filter can make a big difference.
DIY Tips
I've seen higher end HVAC units last over 20 to 25 years, when serviced properly. Do your part by hosing off the dust and grime from your unit. If the fins are dirty, you're restricting air flow. Any time you restrict air flow, you lose efficiency, When you lose heating and/or cooling, and your unit's working harder than it has to, which shortens the lifespan of the unit. In short, you're wasting money and not reaching the comfort level you wanted.
Many homeowners don't want their AC units seen from the street. So, they often bury them among bushes, trees, and vines. Make sure your system can breathe throughout the summer, when the AC is already sucking in all the dry air and dirt, as well as any grass clippings.
NOTES:
Many condo and townhome owners buy their homes, in part, for their low maintenance. They may also think everything on the outside of the building is the responsibility of the Home Owners Association. However, when they're AC unit breaks down, they realize it's their problem.
The high efficiency units we see today perpetually leak because of how they run. With high efficiency units, you get a lot of condensation with heat and AC. The older units only saw condensation with the AC. Now, units as new as five years can develop rusty conduit lines. Dirty, unchecked condensation lines can damage high efficiency HVAC computer boards.
People run their HVAC systems more now than ever before.
People who buy hypo-allergenic filters should be aware that they restrict air flow (as well as allergens), which makes the unit less efficient in some cases.
Many HVAC companies run spring and fall specials, so the cost should only be between $80 and $120. Also, as long as the compressor hasn't gone out on the unit, most common problems can be addressed immediately on the spot.
For 10 Easy Steps to Keep Your Air Conditioning Running Smoothly, read this article from the DIY Network.